...SO WE PUT A PLAN IN YO PLAN SO YOU CAN PLAN WHILE YO PLANNIN'
I think the header pretty much says it all so let me move forward. So we have had some...wat. *A wild dolan appears* *it's SUPER effective*
Oh, alright then. I know. I forgot. Sorry for not updating in a while! I feel like we start our every blog entry by apologising that we never update lol. So back to the start: I apologise for apologising every time I write a blog entry so I can apologise about apologising. *insert another yo dawg face*
For real though, we have been quite busy. Firstly, we haven't really been much to Finland! After Frostbite we flew to London for a week, then spent three weeks in Finland and headed to St. Petersburg by boat. This was the point I, Momo - dropped Poke off and having spent another three weeks in Finland I took off to Germany for 10 days! Needless to say - it has been quite an amazing time for us!
Of course I could mention the fact that I've been struggling with my health and Poke has had her finals and a theatre play to deal with, not to mention the entrance examinations, first of which will be tomorrow to Teatterikorkeakoulu (A Drama/Acting/ Whatever creative related to acting stuff University) so we will be heading to Helsinki later today! Let's all wish her the best of luck!!! (At least she has the best manager with her. *ahem* me *ahem*)
Ok enough memes and personal stuff let's dig in to the serious business and what this blog is about to start with: Cosplay.
After Desucon Frostbite we sort of forgot cosplay again for a while but quite recently we have had some plans again. And these plans are serious enough to make official so here we go, cosplays and other plans for Desucon 2013:
Friday: Not decided yet. But we do have some plans for Friday because as we told in our previous blog entry, we are hosting a SpeedMeeting again! It is at koivu from 21-23! For Friday we might as well just pull some Amor related outfits on since the day is too short to bother and make new costumes. I have also agreed to go and try this Shibari-workshop with my girlfriend so an interesting day ahead.
Saturday: Tada! Time to go Disney! We are cosplaying Sleeping beauty and Prince Phillip!
Poke is going to be Phillip and I get to be the princess!!!! I've already started the crown and the wig and I heard that Poke has started her wig as well. On Saturday I'm also going to be quite busy since I have promised to go and help
this lady over here
with her Euro Cosplay competition. Eek. Let's all wish her luck as well. (If not for her to win, for me, because if she wins, I get to go to London with her! MWAHAHAH)
Later on Saturday I will reunite with Poke and we will be hosting another session of SpeedMeeting! So if you missed us on Friday, you can also come to Koivu on Saturday from 20:30-22:30! I know you all want to come and have new friends and of course - meet us! We're nice and we don't bite.
Sunday: On Sunday we're just going to chill! So no program to host or any other duties. Whew. We are still making new costumes for Sunday and they're going to be * drum roll* Haku and Chihiro from Spirited away.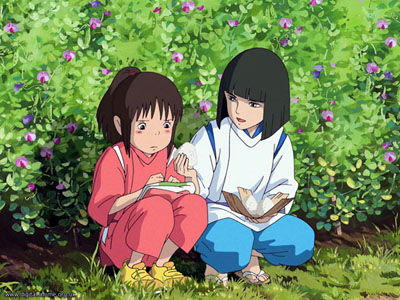 We have already ordered the wigs! Cosplay done, eh? nope. We're going to see if we can find some fabric from Helsinki since the fabric stores in Tampere, not to mention Valkeakoski where I live, just suck.
AAND that was for the Desucon but afraid not! This isn't over yet. As always, I have something going on again. *Mysterious smile* I have been in touch with some people from a certain convention we went last year and cosplayed from Bleach and slept in a tent and it may have been quite far away from our Hometown and an entirely different city...I think you guessed. But nothing's ensured yet so I don't want to make empty promises! All I can say is that we live quite exciting times right now;)
Ok I will now go and kick my girlfriend up from the bed and pack my stuff so that I can head to Helsinki!
Yours,
Momo (And Poke who is about 70km away from me and didn't see this until published.)
P.S Hosting a SpeedMeeting in Desucon Frostbite also landed us a request to come and host it in Mimicon but sadly we had to turn down that offer:( Still feeling quite great though since this mean we did something right?:D
P.P.S COME AND SEE US ON DESUCON OR I WILL FIND YOU AND I WILL SOCIALISE WITH YOU.